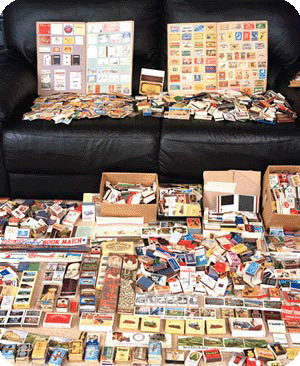 Photo by Colette, also thanks to Cassie, Southampton Solent University.
DONATED COLLECTIONS
Please read our Terms & Conditions. (click Our Terms)


Please donate your old unwanted collection
to this site for free, for all to see, don't trash it.

All donated collections on this site remain for the
life of the site. Hope that they can always be enjoyed.
Latest donation was
in January 2021
By Susan from North Yorkshire
This site contains only a small sample of my personal
collection. Click on My collection tab to view the pages.
Ray`s collection (See special info), click on Ray's.

I DO NOT buy, sell, exchange, or value, so DO NOT ask.
This site is for the displaying unwanted matchbox collections only.
There are many collections to browse through. This site is updated on a regular basis so please return.


Other addresses for your favorites.

http://www.geniusarts.co.uk -- http://www.homeandgarden-ga.co.uk

PLEASE NOTE This site closes from 2.00hrs until 5.00hrs daily.


-- Site constructed with Dreamweaver CC 2020 using MAC Pro 6 core, 32 gig Memory. - ©Genius Arts --